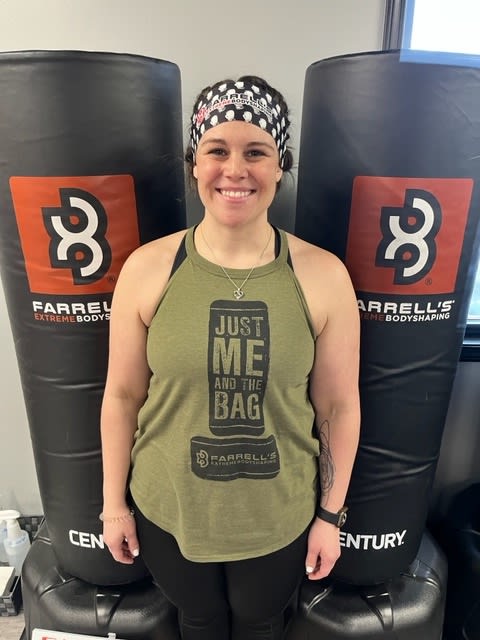 Kelsey Wooten
Hi, I'm Kelsey! I started my FXB journey in January of 2018. I had just had my son and after gaining 90 pounds during my pregnancy, I knew I needed to start living a healthier lifestyle. Even though I had been an athlete all of my life, I hated working out on my own and I didn't have a clue where to start with nutrition. That's when I found FXB!
In my first year at Farrell's I competed in the FXB National Challenge and I was able to lose 60 pounds, 28 inches and take my mile run time from 12:29 down to 7:29! In my first year, I also became a coach and an instructor. I love teaching and helping others reach their goals. Watching someone else get one more rep, do one more burpee or bring that body fat percentage down when they thought they couldn't, is so rewarding for me. We are all in it together and that's why I LOVE Farrell's so much! Not only do we provide the tools for you to succeed but everyone wants to see you succeed! Starting with the owners all the way to the members, we are all cheering each other on to live life at Level 10!
If you're nervous or not sure this is for you then stop in and talk to us. I was the same way but if you trust the system, you'll see that it will work for you too! I hope to see you on the mat soon!